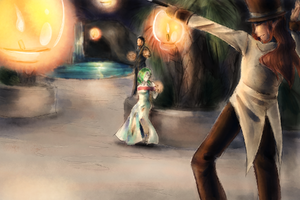 In June, when wet season dawns upon the island and rain is common throughout all parts of the day, it leaves the evenings calm and cool and fresh in the late evenings [if it hasn't transitioned into mild thunderstorming]. Tri-annually, Anaxagoras Taiki, the Magic Shop owner, brings in a vast array of glass lanterns to the hotel, placing them all around the grounds, particularly around the pool and garden areas. The lanterns are set alight, and members of the island staff with psychic abilities are recruited to send the lanterns floating into the immediate sky for a single night after a break in a long stretch of heavy rain.
The soft, warm glow of the lanterns reflects off of the water droplets on the leaves and the glossy sheen of the wet surfaces, sending all of the grounds of the hotel into a dazzling illumination. Guests and residents are invited to partake, coming dressed in their best attire for this prestigious and romantic celebration of light in the darkness. 
Especially enjoyable for couples, this social gathering is also a wonderful opportunity to meet people and enjoy a drink, watching the lanterns and the other individuals, making for a true sight of beauty. 
However, Lantern Night doesn't tend to be any fun for any individual who knows Psychic--they're all recruited to help float the lanterns, and are more or less stationed there for the entire night. Depending on their level of power, as well, they may be required to support several lanterns at various distances. It's not an easy job, and Jacred doesn't pay any of them overtime.